Horseback Riding in the Smoky Mountains
The Stables at Cades Cove
If you would to like to go horseback riding, take a carriage ride or go on an old fashioned hayride while you are on vacation in the Great Smoky Mountains then check out the Horseback Riding Stables at the main entrance to Cades Cove Tennessee near Townsend. The entrance to Cades Cove is about a 45-minute drive from the Little Valley Mountain Resort depending on traffic.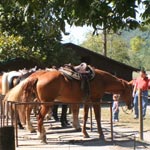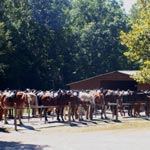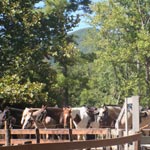 Visitors of all ages enjoy the thrill of horseback riding. Many experience this exciting attraction for the very first time at the Cades Cove Riding Stables. The excited, happy voices of folks enjoying themselves are often heard along the trails at Cades Cove. During your horseback riding adventure experienced trail guides, who will give their attention to every detail as you enjoy the beautiful scenery and wildlife of the Great Smoky Mountains, will accompany you.
The Cades Cove Horseback Riding Stable is open from April through October. Rates average $20 per hour. Weight limits and age restrictions may apply. Please call the Cades Cove Horseback Riding stable if you are interested for operating hours and hourly rates. (865) 448-6286
The Cades Cove Riding stable gives you a great opportunity to take a guided ride on horseback through the valley. The Cades Cove guided tour takes about an hour and although it takes you through a limited area of Cades Cove, it is still a great way to see what the valley of the cove looks like and riding a horse can take you back over 100 years to what it felt like for the farmers and other settlers of Cades Cove to get around.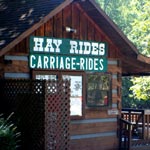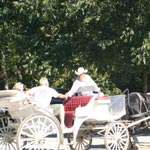 For a truly unique experience, nothing compares to the horse drawn carriage rides at Cades Cove. You will enjoy the relaxation and beauty of Cades Cove as you view the wildlife and scenery of this very special place in the Smoky Mountains. The sounds of nature surrounds you while horses' hoofs and carriage wheels create a sense of another time when people lived their entire lives in Cades Cove. Many folks think of the carriage rides as the perfect romantic retreat right here in the Smokies!
The horse drawn carriage rides in Cades Cove last about 30 minutes and no reservations are required. All of the rides are on a first come first served basis.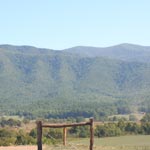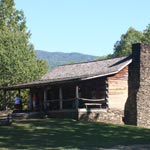 Many families, church and school groups have found the hayrides at Cades Cove to be a terrific outing! For many years in this area, hayrides have been a traditional way for a group of people to have a good time. For even more fun, it is conveniently located for picnics, bonfires and campgrounds. Cades Cove offers unparalleled beauty, an abundance of wild life, and educational points of interest. Our hayride is just for you! 2-hour schedule begins 10:00AM through 8:00PM daily. RESERVATIONS ARE NECESSARY.