Action Packed Pigeon Forge Tennessee
You can be assured that Pigeon Forge Tennessee is a vacation destination that everyone can enjoy! There are more than 40 attractions and over 70 restaurants in Pigeon Forge that line the parkway with exciting activities for families to share, and real fun for visitors of all ages when you vacation in the Smoky Mountains. Pigeon Forge is only a short drive from Gatlinburg and the Great Smoky Mountains National Park.
Some of the fun filled activities includes go-carts, bumper boats, waterslides, rides, miniature golf, and even an indoor skydiving simulator. There is so much to experience in Pigeon Forge! It has such a variety of things to offer, and can allow visitors to enjoy this amazing area all day and night.
When you plan your vacation in Pigeon Forge, you must plan to go to the Dollywood Amusement Park, one of the South's favorite family vacation spots. Dollywood is filled with more than 40 wonderful rides, and the best bluegrass, Southern gospel, and country music anywhere.
Dollywood also has local crafts, and other areas that highlight the life in the Smoky Mountains. Dollywood also offers great festivals including the Bluegrass and BBQ, the National Gospel and Harvest Celebration, and the Smoky Mountain Christmas Festival. Dollywood Theme Park is definitely one stop that will bring excitement to your vacation in the Smokies!
Pigeon Forge also has the Dollywood's Splash Country Water Park, which is a great, unique destination in the Smokies that's fun for the family as well. Pack your bathing suits and jump into this adventure water theme park full of fantastic water rides, slides, and an enormous wave pool. There are also tube rides on the Lazy River, and an exciting Big Bear Plunge white water raft ride. While taking in the action in the water park you will also enjoy the beauty of the Smoky Mountains surrounding you. A fun day in the sun at Dollywood's Splash Country Water Park can't be missed!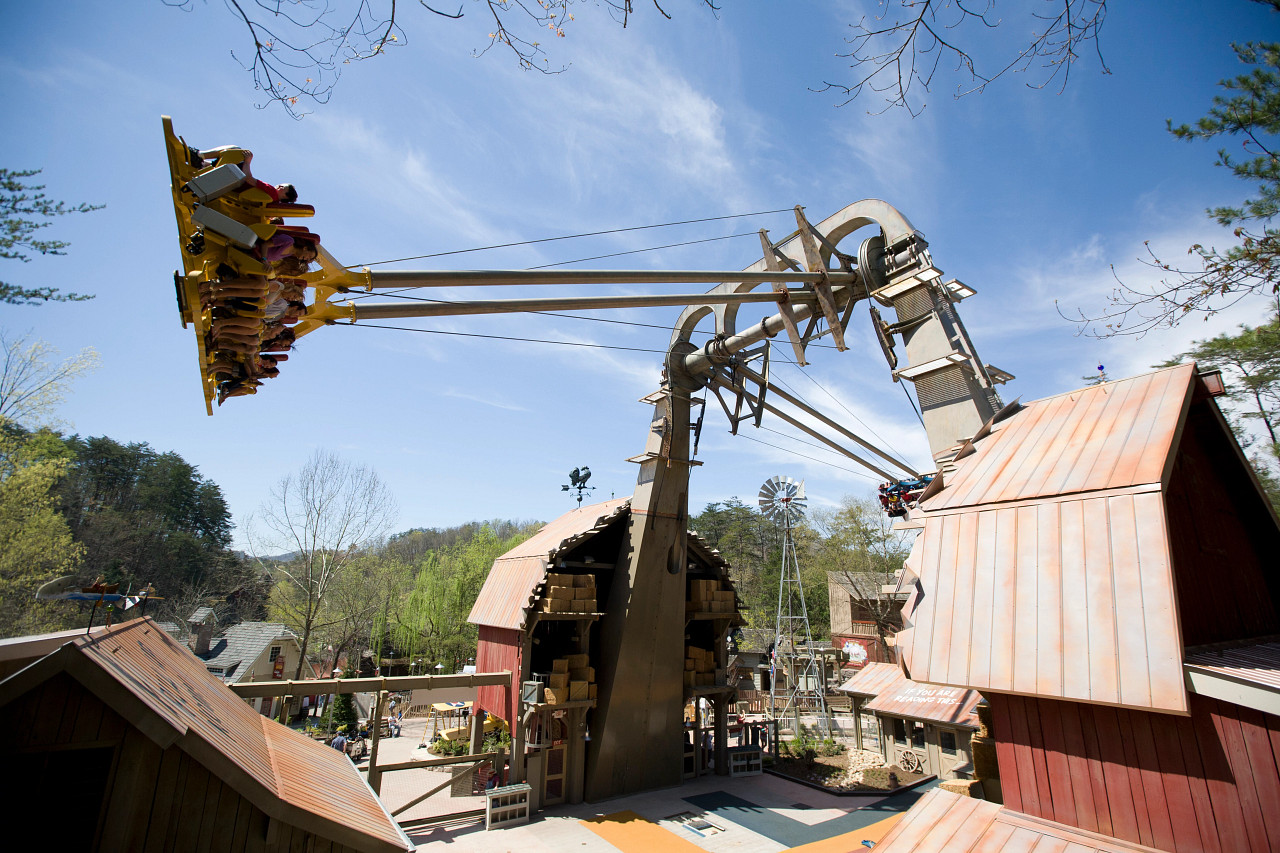 Stop by our office to buy tickets for Dollywood and Dollywood's Splash Country! We offer discounted tickets for our guests. You can purchase tickets for one park or both, and choose a 1-day, 2-day, or 3-day ticket. Multi-day tickets are a great way to save and have plenty of fun time with friends and family.
If you are a "shopper at heart" you will be fulfilled with the outstanding shopping in Pigeon Forge. Pigeon Forge has been voted one of the top shopping destinations in the Southeast. There are more than 200 name brand outlets of all sorts, including luggage, home furnishings, designer clothing for adults and children, crystal, china, toys, and so much more.
The Tanger Outlet Center, located on the main Pigeon Forge Parkway has over 100 brand name outlets and is a great place to shop! There are also dozens of unique specialty stores in the area that offer pottery, arts handmade quilts and crafts. You can't leave this area without a shopping bag in your hand!
There are also many other wonderful outdoor attractions along the Parkway in Pigeon Forge Tennessee. You can be adventurous and reserve an excursion at Wildwater Rafting, take a scenic helicopter tour at Scenic Helicopter Tours, or ride the Wild Woody at The Track Family Recreation Center. These are only a few of the fun filled outdoor activities available in Pigeon Forge.
Pigeon Forge can definitely keep you moving in so many ways, but especially by the exciting and fun entertainment! This area is the home to dozens of great theaters, especially dinner theaters that offer many styles of music, including Broadway, country, bluegrass, gospel, rock n'roll and much more. Dolly Parton's Dixie Stampede is one feature dinner show. Some popular shows include The Black Bear Jamboree, Comedy Barn Theater, Memories Theater, The Miracle Theater, and several more. These are ONLY a few examples of great entertainment available in Pigeon Forge, Tennessee in the foothills of the Great Smoky Mountains! Come see for yourself… you won't be disappointed!
Pigeon Forge is an absolutely wonderful place to visit, and has an abundance of fun things to do for everyone! Plus Pigeon Forge is just minutes from Gatlinburg and the Great Smoky Mountains National Park. Don't miss this great experience of a Smokies vacation in Tennessee!