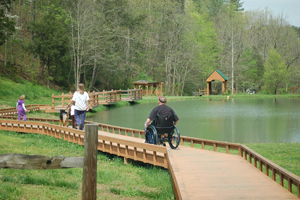 Little Valley Mountain Resort also offers a Wheelchair Accessible Fishing Pond.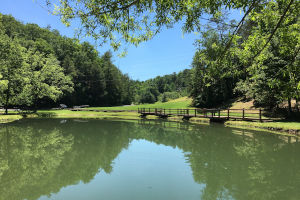 Little Valley Mountain Resort has several Smoky Mountain cabin rentals that are wheelchair accessible with wheelchair ramps for easy access to the cabin, all of our wheelchair accessible cabin rentals near Pigeon Forge have a master bedroom and open floor plans on the main level.
The outdoor decks are wide and spacious, allowing for easy movement both indoors and out in the fresh air. Our fishing ponds are also wheelchair accessible for further enjoyment of the resort's amenities. Our wheelchair friendly Gatlinburg TN cabin rentals can accommodate groups as small as two, to as large as 12.
When you are planning your beautiful Smoky Mountain vacation, let Little Valley Mountain Resort take care of you and your family, and accommodate your needs. You can browse the selection of wheelchair accessible cabin rentals near beautiful Pigeon Forge below.