The Great Smoky Mountains National Park's most visited destination, Cades Cove, is nestled in a scenic valley surrounded by mountain peaks that reach 5,500 feet and plush forests filled with trails. Abrams Falls is one of the most popular trails in Cades Cove. It leads to a picturesque waterfall with a 20-foot drop to a pool and stream below located on Abrams Creek. We offer Cades Cove cabins that are perfect for your Smoky Mountain Vacations.
Cades Cove, a 6,800-acre valley is located approximately 31 miles away from Pigeon Forge, Tennessee. Cades Cove offers an area perfect for discovering breathtaking landscapes, a 4,000 open-acre area to observe diverse wildlife, nineteenth-century historic buildings including churches and pioneer log cabins, and numerous outdoor activities to explore all of Cades Cove's scenic routes!
Featured Cabin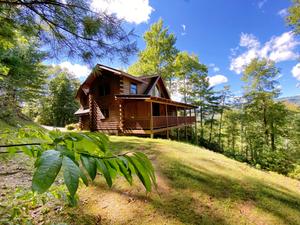 Stardust Mountain II
4 Bedrooms / Sleeps 10
The best way to experience the entire cove is along the Cades Cove Loop Road, an 11-mile one-way, paved loop road. The road is open from dusk to dawn year-round. On Wednesdays and Saturdays from early May to late September the road is closed to motor vehicles until 10:00 a.m. and every Saturday in December, the loop road closes to cars until noon. During this time bicyclists and hikers can take a safe and quiet journey along this road experiencing the wildlife, nature, and the history of Cades Cove.
Cades Cove draws attention for numerous black bear sightings, although many enthusiasts make the trip for Cades Cove camping, the abundant hiking access, and well-preserved 19th-century homesteads. On most days, multiple deer can be seen in the meadows and woods throughout Cades Cove. In addition to hiking and general sightseeing, horseback and bicycle riding are popular activities.
Cades Cove Wildlife Information and Tips
Most visitors that come to Cades Cove understand that feeding wildlife is against the law, but many people do not realize that disturbing park wildlife is also a violation of federal regulations and can result in fines and arrests. This is important to remember while you are on your Cades Cove camping trip.
The laws protecting park wildlife are contained in the Code of Federal Regulations. It states, "Willfully approaching within 50 yards (150 feet), or any distance that disturbs or displaces bear or elk is prohibited." In addition, feeding, touching, teasing, frightening, or intentionally disturbing wildlife is prohibited.
As a rule of thumb, if you approach an animal so closely that it changes its behavior, you have approached too closely. Instead use binoculars, spotting scopes, and cameras with telephoto lenses to enjoy wildlife. Watch for any modification in an animal's behavior that indicates that you have approached too closely. Move away from the animal until you reach a distance at which the animal feels comfortable once again and resumes whatever activity it was engaged in before you approached.
Never feed wildlife or bait animals for closer observation or photography. Feeding park wildlife usually guarantees its demise.
Cades Cove Wildlife Viewing Tips
Viewing wildlife on your Smoky Mountain vacations can be challenging because most of the park is covered by dense forest. Open areas like Cades Cove, and the surrounding Cades Cove cabins, offer some of the best opportunities to see white-tailed deer, black bears, raccoons, turkeys, woodchucks, and other animals. The 11-mile Loop Road at Cades Cove encourages motorists to travel at a leisurely pace and sometimes yields sightings of bears and other wildlife. During winter wildlife is more visible because deciduous trees have lost their leaves.