Elk in The Great Smoky Mountains National Park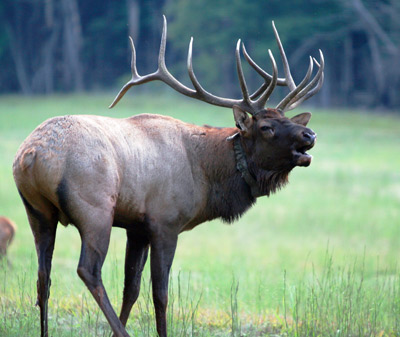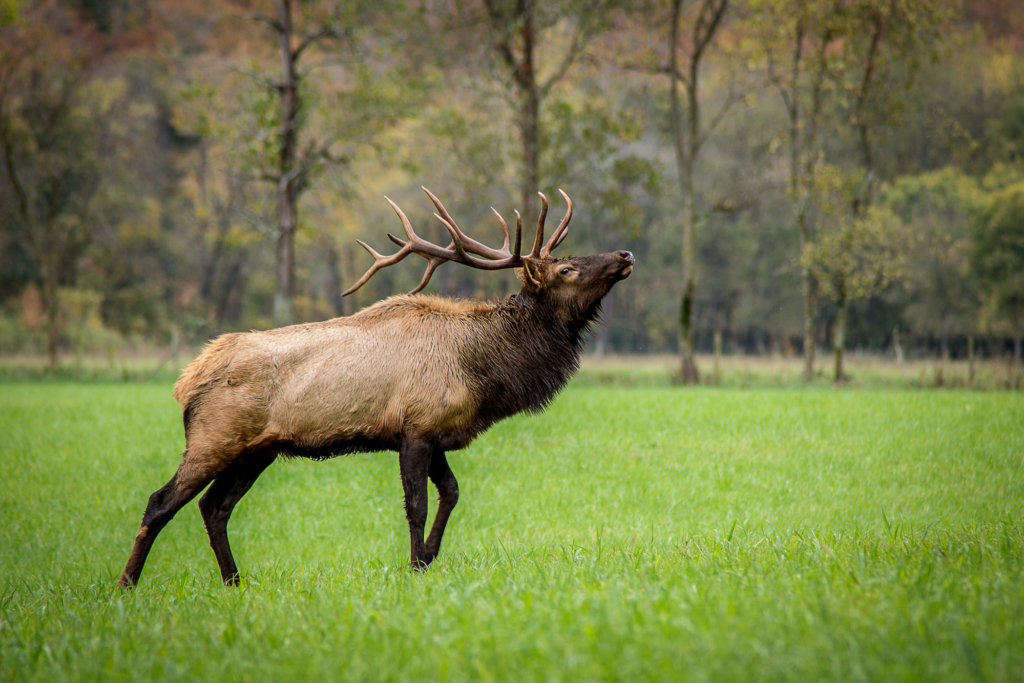 The elk, which were released in February 2001, in the eastern portion of the Great Smoky Mountain National Park, are mainly still in the area where they were released and they are equipped with radio collars for monitoring purposes. There are "elk free" zones in North Carolina and if the elk wander into these areas, they are trapped and returned to the park. If the elk wander onto the nearby Cherokee Indian Reservation, they are allowed to remain.
Take binoculars and a camera. Great photos are possible because the elk sometimes graze right beside the roadway in the park. The closest place from Pigeon Forge and Gatlinburg to view the Elk in the Great Smoky Mountains is at the Oconaluftee Visitor Center and Mountain Farm Museum. Just follow Newfound gap Road (Hwy 441) towards Cherokee North Carolina. The Oconaluftee Visitor Center and Mountain Farm Museum is located at the bottom of the mountain just before you reach Cherokee.
Another great place to view the elk in the Smokies is Cataloochee. This is where the elk were re-introduced to the Great Smoky Mountains National Park. The most direct route is to take Cove Creek Road, which is partially graveled. From interstate I-40, exit at North Carolina exit #20 (Maggie Valley – Waynesville) and travel 0.2 miles on route 276. Turn right onto Cove Creek Road and follow the signs. It is 11 miles into the Cataloochee Valley.
A more scenic route, but is not recommended for RVs, is to take a long winding road, route 32, from Cosby, TN to the Tennessee - North Carolina state border. Here the road becomes gravel. It twists and winds into Cataloochee. (This route is not recommended if your passengers are prone to car sickness.)
Adult males weigh an average of 650 pounds, while cows average 500 pounds. Adults are seven to ten feet in length and stand four and a half to five feet tall at the shoulder. Adult males have antlers that may reach a width of five feet.
Elk can grow larger than the park's black bears and can be extremely dangerous. Females with calves will charge people to defend their young and the males may perceive people as challengers and charge. Never touch or move elk calves even if they appear to be orphaned.The use of lures, elk bugles, and other wildlife calls are illegal inside the park. It is also illegal to remove elk antlers or other elk parts from the park. Never feed elk or other wildlife or bait them in for close observation. Feeding park wildlife is strictly forbidden by law and almost always leads to the animal's demise. It also increases danger to other park visitors.
The laws protecting park wildlife are contained in the Code of Federal Regulations. It states, "Willfully approaching within 50 yards (150 feet), or any distance that disturbs or displaces bear or elk is prohibited." In addition, feeding, touching, teasing, frightening, or intentionally disturbing wildlife is prohibited.